Chelsea Grefe McCann
Chelsea Grefe McCann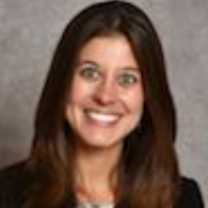 Chelsea Grefe, PsyD received her Masters and Doctoral degrees in School Psychology from St. John's University in New York. She is licensed psychologist in Pennsylvania and New York as well as a certified School Psychologist. Dr. Grefe is trained in Cognitive Behavioral Therapy (CBT), where she helps clients gain a better understanding of the impact of their thoughts, feelings, and behavior on their day to day lives. In addition, Dr. Grefe is a certified clinician in Trauma-Focused Cognitive Behavioral Therapy.
Dr. Grefe works primarily with children, adolescents, young adults and their families. She has extensive experience treating clients who present with mood concerns, behavioral problems, and trauma histories in school, outpatient, and hospital settings. In addition to CBT, Dr. Grefe incorporates parent training, social skills training, and dialectical behavioral therapy skills to best meet her clients' individual needs. Dr. Grefe is a National Registrar Health Service Psychologist and a member of the American Psychological Association (APA).
License State: Pennsylvania, License No.: PS018277
PsyD
School Psychology
St. John's University
2011
Allegheny Psychological and Counseling Services
Mon. 05:30 PM - 09:00 PM
Tue. Closed
Wed. 05:30 PM - 09:00 PM
Thu. Closed
Fri. Closed
Sat. Closed
Sun. Closed
Children, Adolescents, Young Adults
Anxiety/Panic Disorders, Behavioral Problems, Depression, Family, Grief/Loss, Trauma/PTSD
33 Terminal Way, Pittsburgh, Pennsylvania
15219
* If you would like to update your profile, please contact us.