Emily Bryant
Emily Bryant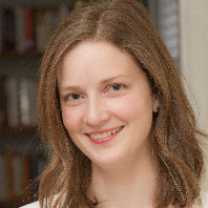 Do you long for a caring professional who can help you navigate anxiety from a Christian perspective?
Do you struggle with intrusive, "sticky" thoughts that keep popping up even though you know they don't make sense?
Do you have a sense that anxiety is keeping you from living the life of freedom God has called you to?
Welcome! I'm a Licensed Clinical Psychologist based in Richmond, Virginia. I blend a Christian worldview with data-based psychological principles to improve lives—especially the lives of kids, teens, and adults struggling with anxiety.
I graduated from the College of William and Mary in 2005 with a Bachelor's degree in Psychology. In 2010 I graduated from the University of Tennessee, Knoxville with a Ph.D. in School Psychology. I have worked for various public school districts in Virginia as a school psychologist. My work in the schools has allowed me to work with kids, teenagers, and their families on a variety of issues. It has given me a deep understanding of the stressors facing children and parents today.
During my post-doctoral residency I gained experience treating OCD and other anxiety disorders (such as PTSD, GAD, and phobias). I have experience treating children, adolescents, and adults in a variety of settings, including school systems and private practice. I primarily use behavioral therapy and cognitive-behavioral therapy orientations. To treat anxiety, including OCD and perfectionism, I often use a strategy called Exposure and Response Prevention (ERP). All of my counseling strategies are research-based. You can expect to have clear, definable homework tasks in between sessions.
I am a Christian, and I find great meaning in incorporating this in my work. However, your faith will be as salient as you wish during our sessions. My goal is to walk beside you in your current season of life and be a voice of hope and encouragement.
License State: Virginia, License No.: 0810004840
PhD
School Psychology
University of Tennessee, Knoxville
2010
American Psychological Association
apa.org
Children, Adolescents, Young Adults, Adults, Seniors
Anxiety/Panic Disorders, Chronic Illness, Depression, Life Transitions, Obsessive/Compulsive Disorder, Pain Management, Phobias, Physical Illness/Impairment, Spiritual/Religious, Stress
Behavioral, Cognitive/Behavioral, Psycho-Educational, Short-Term (Brief Treatment)
9702 Gayton Rd, Richmond, Virginia
23238
* If you would like to update your profile, please contact us.