Rachel Loftis
Rachel Loftis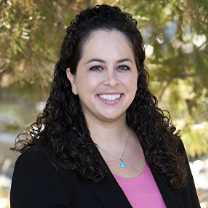 I am a licensed clinical psychologist in the state of Arizona. I received an undergraduate honors degree in Psychology from St. Louis University, and received my Masters (M.A.) and Doctorate (Ph.D.) degrees in Clinical Psychology from the University of Nevada, Las Vegas' APA accredited doctoral program. I completed my pre-doctoral internship at the University of Arizona College of Medicine (Child and Adolescent Track) where I worked in their Outpatient Psychiatry, Anxiety Disorders, School Age, Testing, and Insomnia Clinics as well as their Early Psychosis Intervention Center (EPICENTER). I have training and clinical experience in university based specialty anxiety, school refusal, and assessment clinics, as well as a community mental health center and private practice.
I provide individual therapy to youth aged 5 to 17. I can assist with a variety of problems experienced by youth and their families. My expertise is working with youth who struggle with anxiety, depression, weak social skills, and difficulty adjusting to various life situations. I have specialized experience working with youth with selective mutism and school refusal behavior. I also work with youth with executive functioning deficits, ADHD, and academic issues. In addition I have considerable experience working with youth demonstrating problematic behaviors such as tantruming, arguing, and rule breaking. I can help your child or teen learn coping skills and new strategies to help them overcome their current challenges.
My training has provided me with a strong foundation in the biopsychosocial approach and I recognize the importance of considering the multitude of factors that affect a youth's development and behavior. As such, I often work with parents to help them support their child and learn more effective ways of interacting with their family members. I also have worked with teachers, psychiatrists, and other health professionals to help families reach their goals.
License State: Arizona, License No.: 4571
Doctorate
Clinical Psychology
University of Nevada, Las Vegas
2014
Masters
Clinical Psychology
University of Nevada, Las Vegas
2011
Bachelors
Psychology
Saint Louis University
2008
Arizona Psychological Association
azpa.org/
Children's Service Network (Arizona)
csn-az.org/
Orangetree Behavioral Health
Mon. Closed
Tue. Closed
Wed. Closed
Thu. Closed
Fri. 09:00 AM - 04:00 PM
Sat. 09:00 AM - 03:00 PM
Sun. Closed
ADHD, Anxiety/Panic Disorders, Behavioral Problems, Depression, Family, Grief/Loss, Learning Disabilities, Parenting Issues, Stress
8585 E Hartford Dr, Scottsdale, Arizona
85255
* If you would like to update your profile, please contact us.